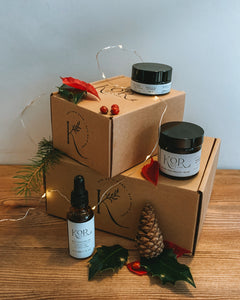 Introducing "A Treeo of Skin Treats."
This Christmas, bestow upon yourself or a cherished loved one the gift of radiant and glowing skin.
Start by detoxifying your skin with our Pure and Bright Mask. Its brightening, tightening, and detoxifying properties are sure to leave your skin looking and feeling refreshed.
Next, pamper your lips with our berry kiss lip scrub to achieve a plump and exfoliated pout that's simply irresistible.
Lastly, complete your skincare routine with our rejuvenation facial oil, providing the hydration and nourishment your skin craves for that coveted winter glow.
These three skin treats are the ultimate gift for the skin you adore.
Box product value £78 Christmas price £62
 See below for each product information:
https://korskincare.com/products/berry-kiss-lip-scrub
https://korskincare.com/products/pure-and-bright-mask
https://korskincare.com/products/rejuvenation-oil