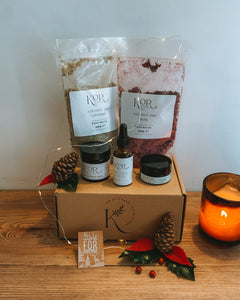 This Christmas, give the gift of the complete KoR range to yourself or a loved one.
For Your Body:
Indulge in the ultimate relaxation and rejuvenation as you soak away the chill of winter. Our coconut and rose bath salts, as well as our lavender and rose bath salts, not only provide warmth but also detoxify and soften your skin, ensuring you emerge with a renewed sense of vitality.
For Your Face:
Elevate your facial skincare routine to a whole new level this holiday season. Begin by brightening, tightening, and detoxifying with our Pure and Bright Mask. Next, enhance your lips with our berry kiss lip scrub, leaving them irresistibly plump and exfoliated. Finally, complete your routine by hydrating and nourishing your skin with our rejuvenation facial oil, guaranteeing a smooth and radiant winter glow. It's the perfect gift for the skin you cherish.
Box product value £106 Christmas price £85
 See below for each product information:
https://korskincare.com/products/berry-kiss-lip-scrub
https://korskincare.com/products/coconut-and-lavender-bath-salts
https://korskincare.com/products/bath-salt-range
https://korskincare.com/products/pure-and-bright-mask