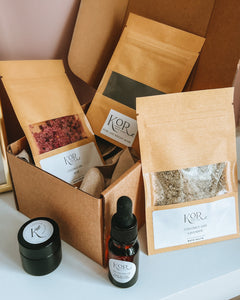 So far, so good!
The discovery box arrived just a few days after ordering and within the delivery time specified. Very well packaged with clear instructions for use of each item in the box. I've only used the rejuvenation oil so far and I am pleased with it; I get a long lasting 'glow' on my usually dry face so will probably consider it for long-term use and recommend it to others - the product had been recommended to me by a friend.
The most amazing box of goodies
I absolutely loved this box, it was a great way to try all the products before committing to the larger sizes. this really fuelled my love for the Rejuvenation Oil and I've been hooked on the KOR skincare brand since. The box would make the perfect gift from someone and I can't recommend it enough!
The perfect gift!
This discovery box is a fantastic way of trying the range, but also the perfect option for a gift! The products are so well packed and great sizes - the lip scrub, mask and oil provide plenty to try before committing to a full size, but also are great to keep as airport minis. All in all a great little package with so many options for uses! :)